Keep Scroll Bars Always Visible in Windows 10
In Windows 10, the overall theme system that we see is called the Fluent Design. The Fluent Design in an ongoing process. With each new build, Microsoft is shifting the Windows settings from the traditional Software design to the modern flat Apps layout.
The Windows Fluent Design is making a lot of changes to the way Windows looks, feels, and behaves. Many new features are introduced in this new design language with each new build; one such feature is the return of transparency (or translucency, to be precise), which was removed in Windows 8. Along with all the good ones, there are some annoying features as well. One such feature is Automatically hide scroll bars in Windows. By default, this setting is enabled.
When enabled, this feature gives Windows a much cleaner look, but at the same time, it makes going through regular Windows Apps related operations very time-consuming. This is because every time you want to move the scroll bar to go up or down in the window, you have to wait for a few moments for the scroll bar to appear again to be able to select it; it disturbs the workflow.
I don't think anybody who disliked the Automatically hide the taskbar option will ever like the Automatically hide scroll bars option as both of these give the same kind of psychological response. Anyway, here is how to disable this option, and get back your scroll bars.
How to Keep Scroll Bars Always Visible in Windows 10
Step 1: Press Windows + I keys together to open the Windows Settings app.
Step 2: Navigate to the Ease of Access section, and click on it.
Step 3: In the Ease of Access section, Display is the default tab, and that's where we want to be.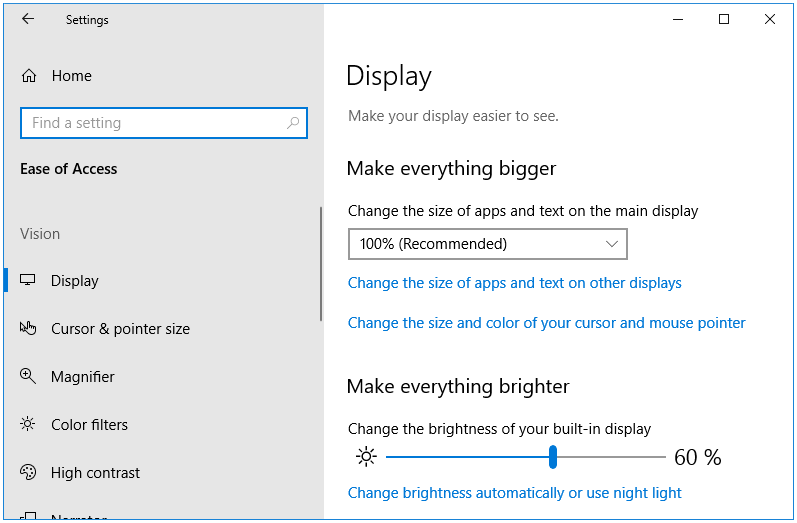 Step 4: Under the Display settings, go to the Simplify and personalize Windows section. Here you'll find an option called Automatically hide scroll bars in Windows, which is turned On by default. Move the slider to turn this option Off.
That's it!