The most important thing about computers is user data. Everything else about computers is replaceable except your data. These three are the most common causes of data loss:
File/Folder Deletion
Lost Partition
Damaged Partition
File/Folder Deletion
File/Folder Deletion is the most common type of data loss. Most of the times, data lost due to accidentally deleting files/folders can be recovered through Recycle Bin. But, there can be cases when it's not possible to do that.
File and Folders could be lost permanently due to various reasons
Recycle Bin is disabled: Recycle Bin is a separate space (folder) on each Windows drive that keeps all of the files that you deleted. You can Restore your deleted files back to their original location as long as they are present in Recycle Bin. These files stay there until you decide to empty the Recycle Bin itself. Sometimes, to make some extra space on their drives, users disable the Recycle Bin feature, which causes files to be permanently deleted from the system.
Permanently Deleted: The Delete key is used to delete files, and send them to the Recycle Bin. But, if you want to bypass the Recycle Bin, and delete the files permanently, then you have to press the Shift and Delete keys together. Files deleted this way cannot be recovered from Recycle Bin.
File size too big for Recycle Bin: Windows automatically allocates some size to Recycle Bin. For example, on a 50GB drive, Windows allocated 5GB for Recycle Bin. Now, if you deleted a file that was bigger than the size of Recycle Bin, then it will be deleted directly, completely and permanently from the system. Recycle Bin is like a folder. If a folder is allocated a disk space of 5GB then you cannot move a file bigger than 5GB in the folder. The same rule applies to Windows Recycle Bin.
Recycle Bin already full: Like previously mentioned, Recycle Bin is allocated a certain space on each drive. If your Recycle is already full, or in unable to completely copy the file that you are going to delete, then that file will be deleted from the system bypassing Recycle Bin.
Accidentally emptied the Recycle Bin: There can be some cases where after emptying the Recycle Bin, the user realises that there were some important files in it, and now he wants them back.
What Causes Lost Partitions
A partition could be lost because of many reasons
Corrupt Partition Table: A Partition Table contains data about hard drive partitions. It involves information such the size of the partitions, file system of the disk, the start and end points of a partition in disk, and other disk related facts.
Hard drive malfunction: Your hard drive may have a manufacturing defect or it may have started malfunctioning because of its extensive usage, or some other error.
Windows reinstallation: Sometime during windows reinstallation, users can accidently or intentionally delete the previous partitions.
Fatal errors during installing another operating system: Users may want to install another version of Windows or a completely different Operating System such as Linux along with the main Windows OS to create a multi-boot system. The other OS may have support for a different kind of file system, and it may conflict, delete or format partitions of other operating systems during its installation process.
Certain malware attacks: Malware are created to do a specific task. There are different types of malware such Virus, Worms, Spyware, Ransomware, etc. Some malware can attack your hard disk partitions, and format them.
Partitioning gone wrong: Sometimes, working with some partition managers can cause various types of errors that could result in the deletion of partitions. A power cut during a partitioning process can also affect your disk in a bad manner.
Pressed the wrong button during customizing partitions: Human error!
What Causes Damaged Partitions
Damaged partitions are different from lost partitions. Lost Partitions are no more available but the damaged partitions still exist; you can see them in your partition managers. The damaged partitions can have various types of errors such as the user is unable to access the partition, or unable to open his data stored on a partition, etc.
Because of its differences with a Lost Partition, Data Recovery software have a separate module for recovering from a Damaged Partition.
Some of the most common errors found in Damaged Partitions
RAW partition: RAW partitions are the partitions that are not formatted with the File System that Windows recognises. In such a case, Windows may not be able to access that partition, as it cannot read it, so it asks the user to format it.
Unallocated space: Windows may display a partition as Unallocated Space in its Disk Management component. It could happen because of various errors such as power cuts during a partitioning related process, or an application that deals with partition management crashes, etc.
Partition is not accessible: This could happen because of Windows, Software or other file related issues. Windows permissions may have messed up, or the Master File Table (MFT) got corrupted, etc.
Removable device is not recognized: The most obvious cause of this problem is faulty USB ports. If it is not happening because of this hardware issue, then the trouble could be within Windows Registry or Local Group Policy Editor. Both of these powerful Windows components have settings that can prevent a user from accessing the removable media on this computer.
Partition available in Partition Managers but not in File Explorer: This error is the easiest to solve. Most of the times, this type of error occurs if the Drive Letter is missing. By default, Windows does not display those partitions in its File Explorer that are not assigned a drive letter. The drive letter may have disappeared because of some errors.
Data Recovery Tip
DO NOT SAVE THE RESTORED FILES ON THE SAME PARTITION WHOSE FILES YOU ARE RECOVERING. DOING SO CAN OVERWRITE THE PREVIOUSLY DELETED FILES RESULTING IN CORRUPTED FILE RECOVERY.
Best Free Data Recovery Software for Windows
Here are the Best Free Data Recovery Software for Windows.
1. TestDisk
https://www.cgsecurity.org/wiki/TestDisk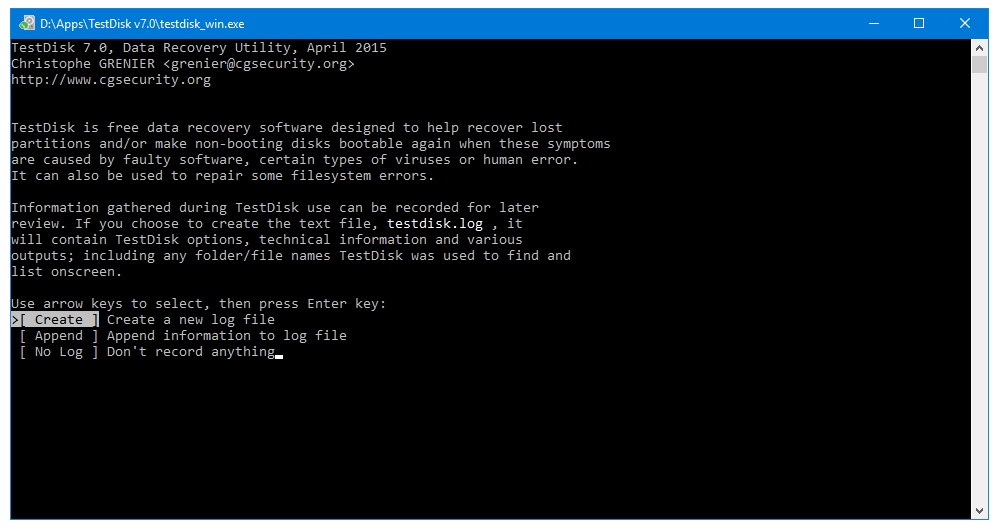 TestDisk and PhotoRec are the best data recovery software. Period.
It is a true cross-platform software – available for DOS, Windows 9X family, Windows NT4, 2000, XP, 2003, Vista, 2008, 7, 8, 8.1, 10, Mac OS X Intel, Mac OS X PowerPC, Linux, FreeBSD, NetBSD, OpenBSD, and SunOS.
TestDisk is an open-source program, and is released by its development company, CGSecurity, under the GNU GPL license. There are no data recovery limits, no pro versions, no ads, no promotions in this great program. Using TestDisk can prove to be a daunting task for first time users as it works only in a command prompt/terminal window. This program has no colourful icons, animations, or other inviting GUI elements that most users like.
TestDisk can:
Fix partition table, and recover deleted partitions. Fix FAT tables, and MFT using MFT mirror.
Recover FAT32, and NTFS boot sector from its backup.
Rebuild FAT12/FAT16/FAT32, and NTFS boot sector.
Copy files from deleted FAT, exFAT, NTFS, and ext2/ext3/ext4 partitions.
Undelete files from FAT, exFAT, NTFS, and ext2 filesystem.
Locate ext2/ext3/ext4 Backup SuperBlock.
2. PhotoRec
https://www.cgsecurity.org/wiki/PhotoRec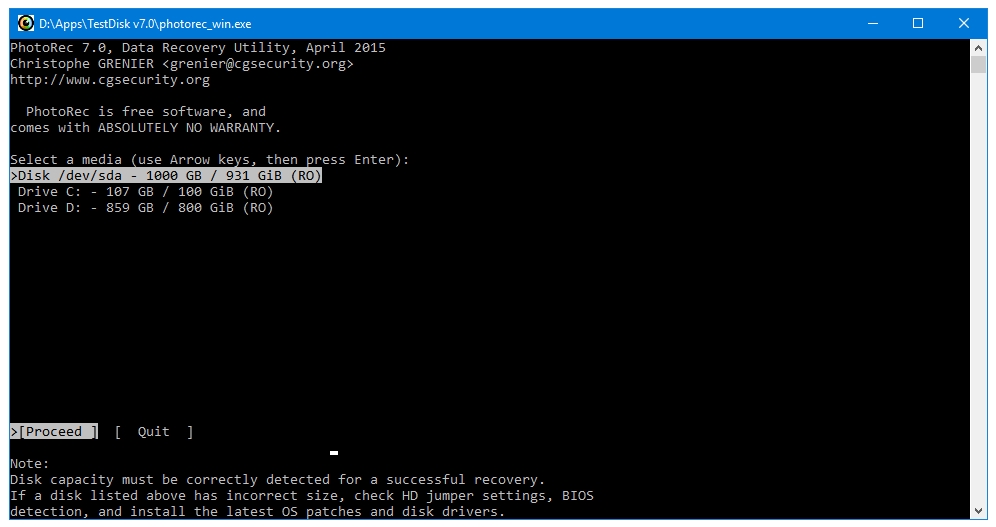 PhotoRec is the companion program of TestDisk. The same developers, who made TestDisk, CGSecurity, make PhotoRec.While TestDisk is focussed on recovering data from the whole disk or partitions, PhotoRec is aimed at the recovery of specific files and folders. It may have the word Photo in its title but it does not recover only photos. It is a complete data recovery program, which can be used to recover deleted photos, audio, video, documents, and other file types from hard disks, memory cards, CD/DVD, USB drives, and other portable multimedia devices.
Like TestDisk, PhotoRec is also an open-source program, and is distributed under the GNU GPL license. In addition, it is also available on all of the operating systems that are supported by TestDisk.
Unlike TestDisk, PhotoRec has GUI version of itself called QPhotoRec.
3. Recova
https://www.ccleaner.com/recuva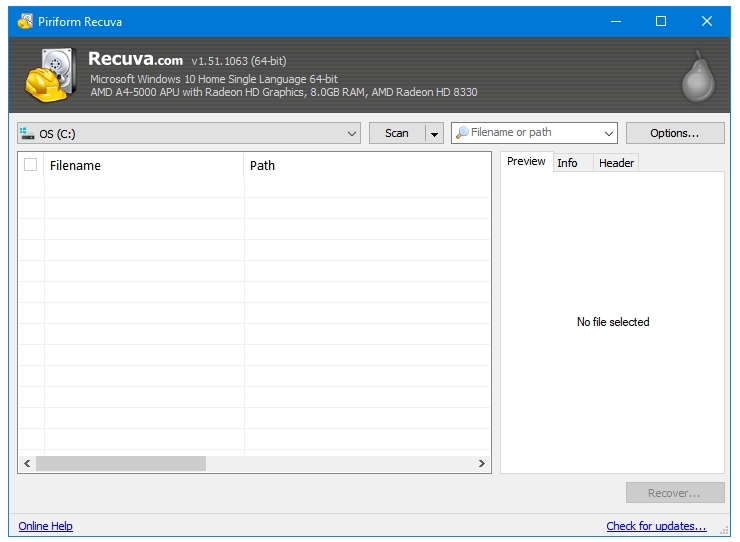 It is pronounced as Recover. Recuva is nowhere as feature-rich as TestDisk (nothing is), but it is a good option for undeleting files. It is definitely not for recovering partitions, or disks. Recuva can recover pictures, music, documents, video, compressed, emails, and other types of files.
Before starting the scanning process, you can select either the All Files option or any of the other six file categories mentioned below the All Files option. The next window asks you to specify the location to search for the deleted files. You could search the whole computer (both HDD and SSD are supported), removable drives, Documents folder, Recycle Bin, CD/DVD, or a specific location. The next window gives you the option to enable the Deep Scan mode of Recuva, which is an advanced deleted file scanning feature. Deep Scan will find more files but it also takes a lot of time to complete the scanning process.
The main feature of Recuva is recovering files but it also has the ability to wipe the deleted files with the help of its secure overwrite feature which uses industry and military-grade deletion techniques.
4. MiniTool Power Data Recovery Free Edition
https://www.minitool.com/data-recovery-software/power-data-recovery-free.html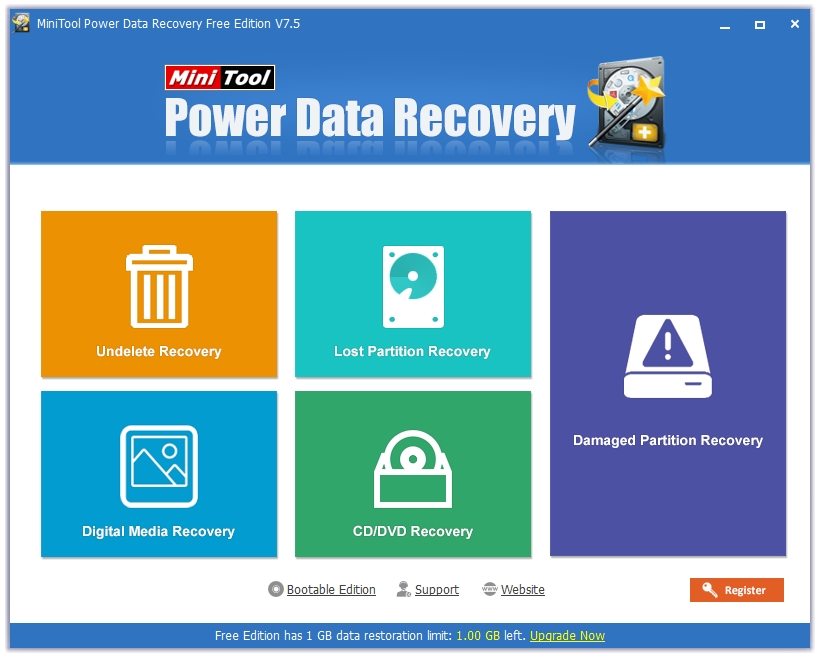 It supports recovery of damaged partitions, lost partitions, digital media and CD/DVD. Data recovery from HDD, SDD, USB, RAID, CD/DVD, Memory Cards, Digital media devices, and many other devices is possible
The Damaged Partition Recovery is used to recover disk partitions that still exist but are not accessible or are malfunctioning
The Lost Partition Recovery tries to recover recently deleted partitions. This feature works well only if no new partitions have been created on the unallocated space left by the previously deleted partition. Creating a new partition will overwrite new data on the previously deleted partition space, which would make recovery of data even more difficult.
The Undelete Recovery can be used to recover mistakenly deleted files and folders.
The Digital Media Recovery is a dedicated feature for the recovery from portable media devices and recovery of media files such as pictures, audio, and video files from storage media found in portable devices such as memory cards. This feature can be used to recover multimedia files from USB flash drives as well.
The CD/DVD Recovery modules tries to recover files from formatted or scratched disks.
The free version lets you recover only up to 1GB of the deleted data.
Various file type in the categories of Document, Image, Video, Audio, and Email are supported for recovery. It works on Windows 10, 8.1, 8, 7, Vista, and XP.
5. EaseUS Data Recovery Wizard Free
https://www.easeus.com/datarecoverywizard/free-data-recovery-software.htm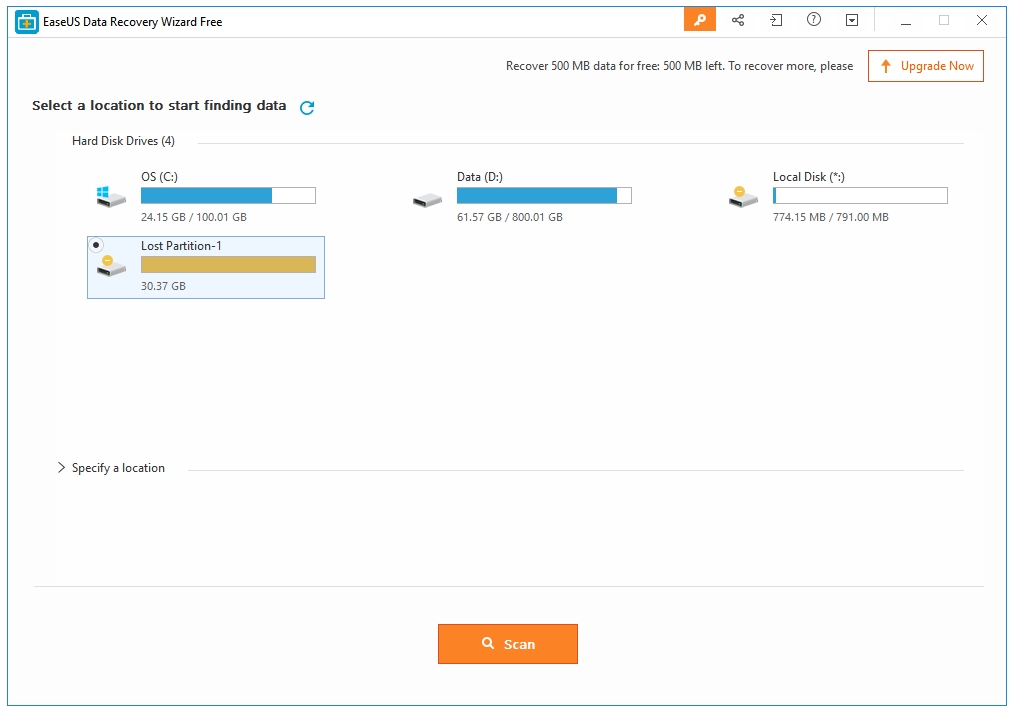 EaseUS supports the recovery of deleted, hidden, lost or raw partitions. Along with the recovery of partitions, this program supports recovery of deleted digital media files such as audio video, and images, documents, compressed files, and many other file formats.
Data recovery from HDD, SDD, USB, RAID, CD/DVD, Memory Cards, Digital media devices, and some other devices is possible.
It automatically recognizes if there are some damaged of lost partitions. You can click on them to start the recovery process by scanning them. In order to look for deleted files, open the main program window, click on the partition that contained those files, and start scanning. When the scanning is finished, the program displays all of the found files in the next window.
Sometimes, the recovered files may not display their original names; instead, there may be some generic automatically created names. The found files can be organized according to various parameters. The program automatically displays them in the five categories – Graphics, Audio, Document, Video, Email, and Other. You can also watch all of the found files in one group by selecting All File Types option.
The Free version lets you recover only up to 500MB of deleted data. So, features like Damaged Partition Recovery and Lost Partition Recovery are not of much use.
The NTFS, NTFS5, FAT (FAT12, FAT16, FAT32), exFAT, ext2/ext3, HFS+, and ReFS file systems are supported. It works on Windows 10, 8.1, 8, 7, Vista, and XP.