The need for Program Uninstallers
Many computer users are not familiar with the term Uninstall and its concept. When you Install something you also get the option to Uninstall it. It's a good practice to uninstall those software that are not being used at all, and are just eating your disk space and bandwidth. Windows has an inbuilt option to Uninstall software but it does not remove all of the files and settings associated with that software. When you uninstall a software through Windows Uninstall, it just initiates the uninstall component of that you're trying to uninstall. This component is also created by the same developer who created the rest of that program. The problem is that these uninstaller are not very efficient. They may not delete all that they created. And, Windows won't do any scans and removals related to that software once its uninstaller component has done its job. To remedy this situation, you need to have a third-party uninstaller installed on your system, whose only job is to remove software completely.
Uninstallers help in deleting:
the associated files and folders of software,
the startup items of software, and
the registry keys created by software.
Best Free Program Uninstallers for Windows
Here are some of the best free program uninstallers for Windows.
1. IObit Uninstaller
https://www.iobit.com/en/advanceduninstaller.php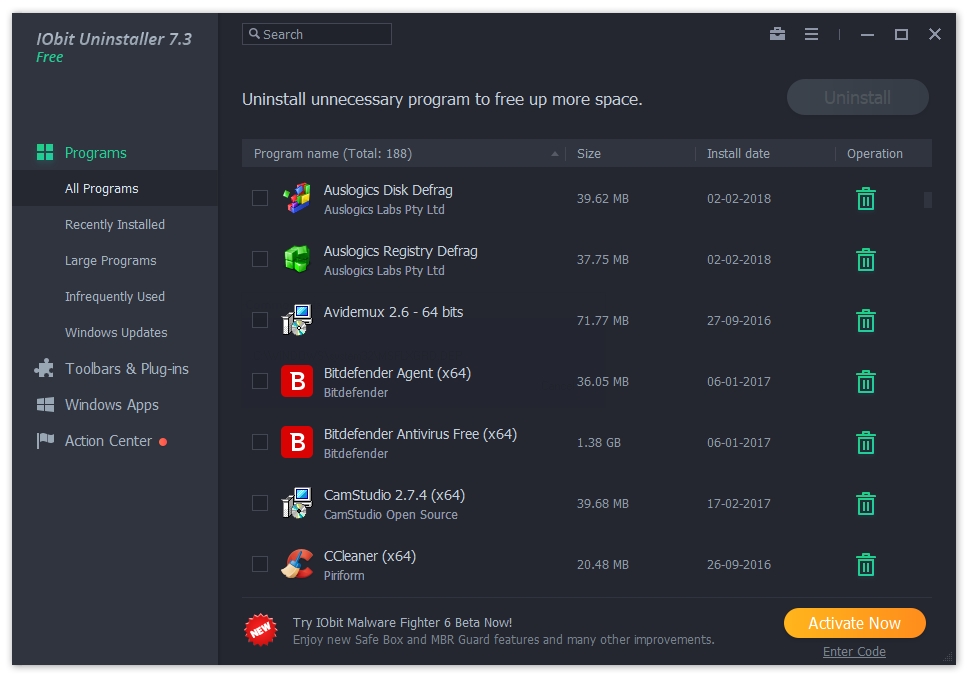 IObit Uninstaller is available as an executable as well as a portable application. It does its job pretty quickly. Each program uninstall window presents the option to select that event as a restore point. There is limited skin support as well. Two skin styles – Classic (Dark) and White, and three font sizes – Normal, Large and Larger are available.
The first and the most important section in the sidebar is Programs, which displays all of the traditional applications installed on the system. These programs are arranged in found columns – Program Name, Size, Install Date, and Operation. The Programs option is subdivided into five categories for easier access – All Programs, Recently Installed, Large Programs, Infrequently Used, and Windows Updates.
The second option on the sidebar is Toolbar & Plug-ins, which lists all of the toolbars and plug-ins that are installed on various web browsers. The third option is Windows Apps, which lists all of the Windows Store Apps. This program supports batch uninstall, so if you don't use Windows Store Apps on your desktop then you can select all of the them and uninstall them in one go. The last option called Action Center is, basically, the advertisement section for IObit's other products.
It has a handy search box, which can be helpful in accessing programs easily if you have a long list of installations. The free version includes some other tools as well – Force Uninstall, Cleanup Residual, and File Shredder.
2. Geek Uninstaller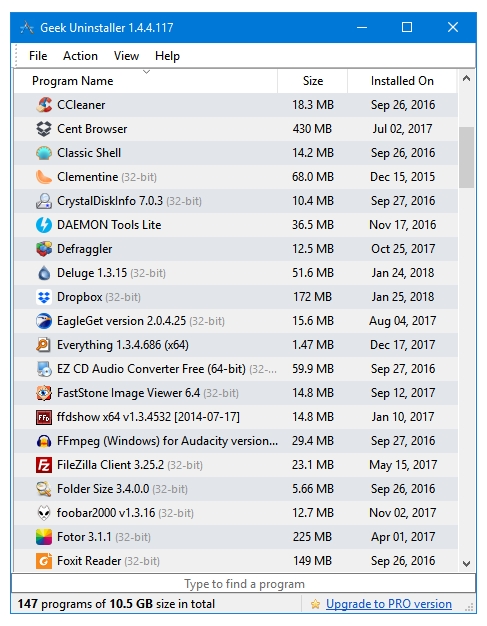 The free version of Geek Uninstaller is available only in the Portable mode i.e., there's no need to install it. The program comes in a .zip and .7z package. In order to use it, you need to extract the downloaded package, and then double click on the main program .exe file to start it. To make this program easier to access on future occasions, it is recommended to place it inside your Program Files folder which is situated in the root of your Windows drive. After placing the Geek Uninstaller folder in the Program Files folder, create a shortcut of the main .exe file in your Start Menu. This method can be used for other portable programs as well.
Geek Uninstaller has low footprint on the system and opens instantly. One very useful feature present in this program is the Search bar, which makes it a lot easier to find the program you want to uninstall. As soon as you start typing in the search bar, the software starts displaying all of the software with those letters. Most of the times, you only need to type 2 or 3 letters to reach a specific program. The recently installed programs are highlighted with orange colour, and the recently modified programs are highlighted with sky blue colour.
Geek Uninstaller has the Force Removal option for those hard to remove software. The Remove Entry option is helpful in removing entries of software that have otherwise been removed from the system but still have their entry in the installed programs list. It has the option to remove Windows Store Apps as well. At one time, you can only view one type of software – either the Desktop Apps or the Windows Store Apps.
3. Revo Uninstaller
https://www.revouninstaller.com/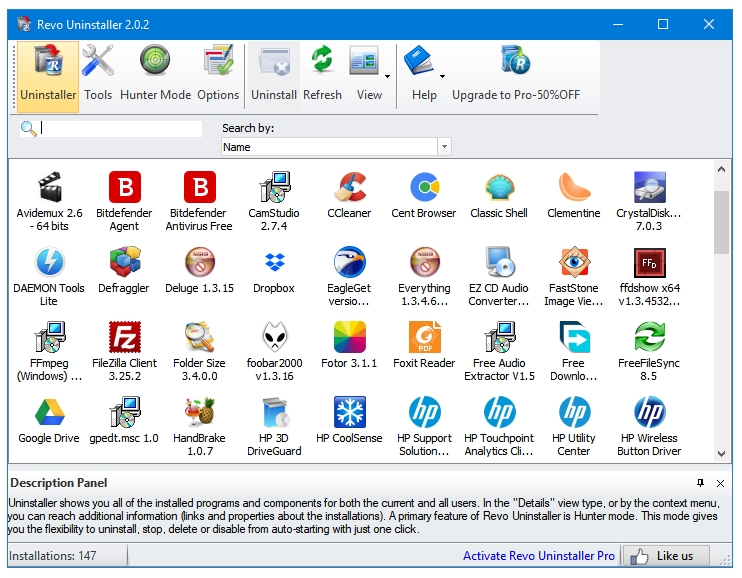 Revo Uninstaller comes in both modes – Install and Portable. The Portable mode can be helpful for keeping it in a Rescue Kit on a USB drive along with other cleaning and rescue tools. The Install mode is a better choice if you want to frequently to use this program and keep it up-to-date automatically.
Revo Uninstaller is the most feature-rich uninstaller, even the free version of this software contains more features and settings than any other paid competitor of Revo. Besides the main Uninstallation component, other tools included in Revo Uninstaller are Autorun Manager, Junk Files Cleaner, Windows Tools, Browsers Cleaner, Microsoft Office Cleaner, Evidence Remover, and Unrecoverable Delete.
Revo Uninstaller has the Exclude setting for excluding the Folder and Registry locations that you do not want touched. Revo also has a powerful search bar for finding the programs quickly. Revo can display the programs in three view modes – Icon, List and Details. There is also a special Hunter Mode for stubborn programs that just won't go away. Revo lets you export the list of all the installed programs in Text (.txt) or HTML (.html) file.
4. Wise Program Uninstaller
https://www.wisecleaner.com/wise-program-uninstaller.html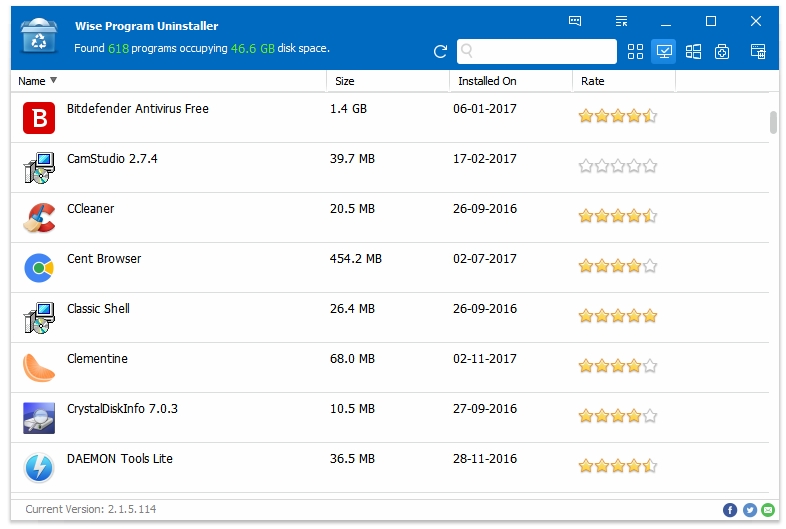 Wise Program Uninstaller comes from the makers of WiseCleaner, a complete optimization suite for Windows. Wise Program Uninstaller is small-sized and loads fast. This software is also available in both – install and portable mode.
Like other uninstallers, it also removes files, folders, and registry items of programs. The Forced Uninstall deletes and removes programs and files that have not been uninstalled properly or were installed with a broken uninstaller. It also does the job of removing hard to remove programs.
The main window lists the four properties of programs – Name, Size, Date and Rating. All of these can be arranged in ascending or descending order to easily find and remove programs. It has integration into Windows Explorer with Uninstall with Wise Program Uninstaller context menu entry. This provides the second method for uninstalling programs – by going into the program directory and right clicking on the main program file. Wise Program Uninstaller also supports Windows Store Apps removal.
5. HiBit Uninstaller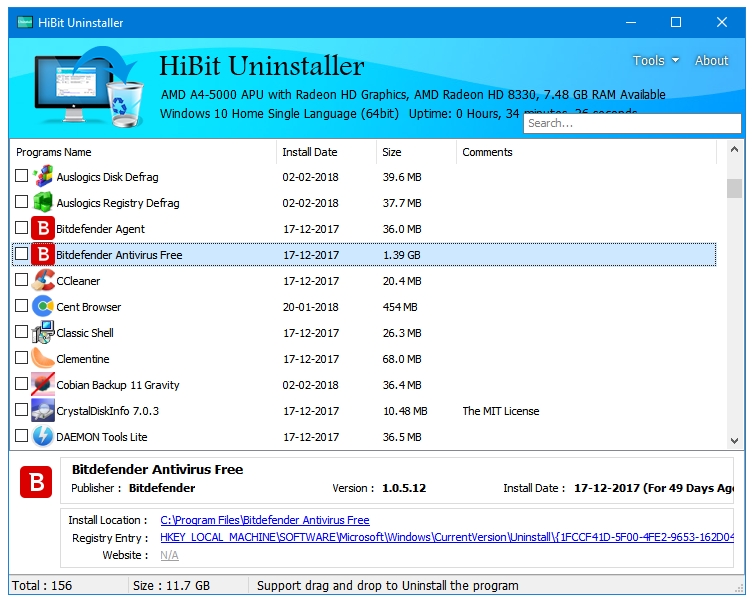 HiBit Uninstaller is not a well-known program like the others on this list, but it should be. It's more than just a program uninstaller. HiBit Uninstaller allows the uninstallation of all three types of programs – traditional Windows software, Windows Store Apps, and Browser Extensions. All of these support Batch Uninstall.
Other than the main uninstallation component, HiBit includes almost all of the system cleaning and optimization tools. It includes Registry Cleaner, Junk Files Cleaner, Empty Folder Cleaner, and Shortcuts Fixer. You get some other Windows tools as well in this program; there are Processes Manager, Startup Manager, Services Manager, Scheduler Task Manager, Context Menu Manager, and System Restore Manager.
This program will definitely get more attention if the developers change its name to something that signifies all of its capabilities. You can get the installer as well as the portable.