The need for Download Managers
Download Managers have many features that aren't present in the downloading component of web browsers. These programs give more options and control over your downloads. Here are some of the most commonly found features in download managers.
1. Resuming paused downloads.
Download managers have the ability to resume (resume-supported) downloads. Your downloads may stop because of many reasons such as internet connection problems, electricity cuts or expired links and mirrors. The user may also stop the downloads deliberately for various reasons such as restarting the computer for installing an update, shutting it down for the night, etc. It would suck to start a download again form the beginning, especially when you have limited bandwidth (or limited high-speed bandwidth) plan.
2. Organizing downloads.
Download Manager programs manage or organize your downloads. When you download directly through the web browser, all types of files are saved into one directory. Most of the times, it's either the Desktop or the Downloads folder. The Download Managers categorise these downloads and save them into file specific folders such as Documents, Images, Media, Compressed, Software, etc.
3. Download acceleration.
Another important feature is the ability to download from multiple servers. These programs support downloading from multiple servers and mirrors. Faster mirrors provide better speeds, which result in quicker download completion.
4. Clipboard monitoring.
The Clipboard monitoring feature allows download manager to monitor your clipboard. So, in order to add a new download, all you have to do is just copy the download link. The download manager will automatically analyze that link, and display the file information in a window.
5. Multimedia grabbing.
Almost all of the download managers have built-in add-ons or plug-ins that help in grabbing the various multimedia files from web pages. This component works along with the clipboard monitoring feature.
6. Virus scanning.
As the name suggests, the virus scanning feature lets the download managers to scan all of the downloaded files with the antivirus that's installed on the same computer.
Best Free Download Managers for Windows
Here are some of the best free download managers for Windows.
1. Free Download Manager
https://www.freedownloadmanager.org/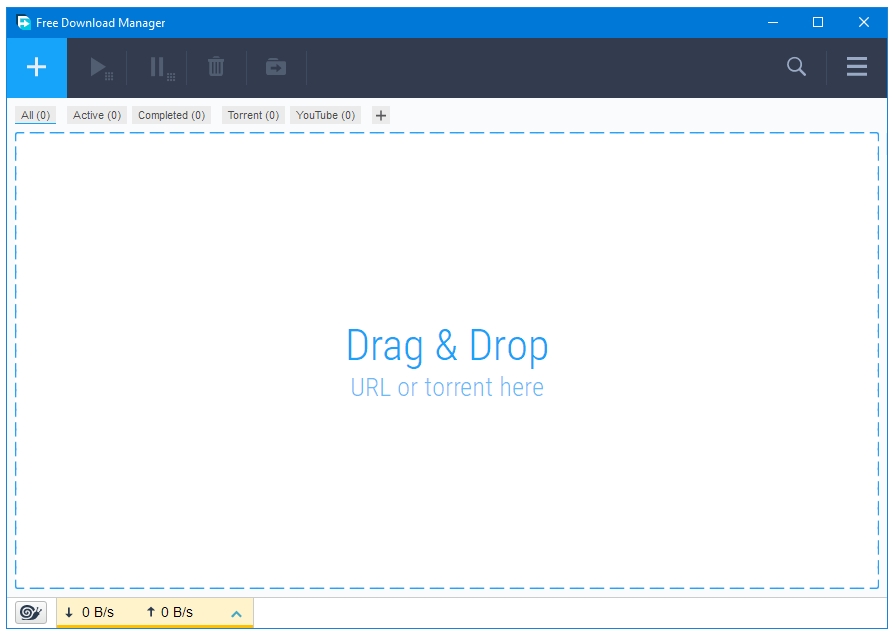 Free Download Manager has been featured in countless lists. On most of these lists, you'll see it occupying the top spot. It's easy to understand why it enjoy such a nice reputation – it's a complete freeware, it has extensions for major web browsers, there is no pro version to this free version, it has more features than many of its paid alternatives, and it does not include ads, promotions or other Potentially Unwanted Programs.
FDM got a facelift with the release of version 5. It can be said that it's still in a state of transition. It's not as feature rich as it used to be earlier with its older UI. But, the new version still has all the essential features that any user may need. More features are expected to be integrated into it in the future releases.
FDM has a clean, user friendly interface. It has an in-built feature for downloading torrents. Downloading YouTube videos is also supported. You have to drag-and-drop the video URL in the FDM program window, which will analyze the URL, and present you with various video formats and resolutions that are available for downloading. FDM has extensions for all the major web browsers to achieve better browser integration. Traffic limits can be set on downloads. There's also the Snail mode that limits the download speed to leave some bandwidth (or speed) for other web browsing activities. It's integrated into Windows Power Options as well. You can prevent your computer from sleeping if there are some active downloads. Another nice feature is the disk space preallocation. FDM will preallocate or reserve the total space required to save the file. This way, no other application can use that space from your drive, and your file will always have the required space to fully download itself on your computer.
2. Internet Download Accelerator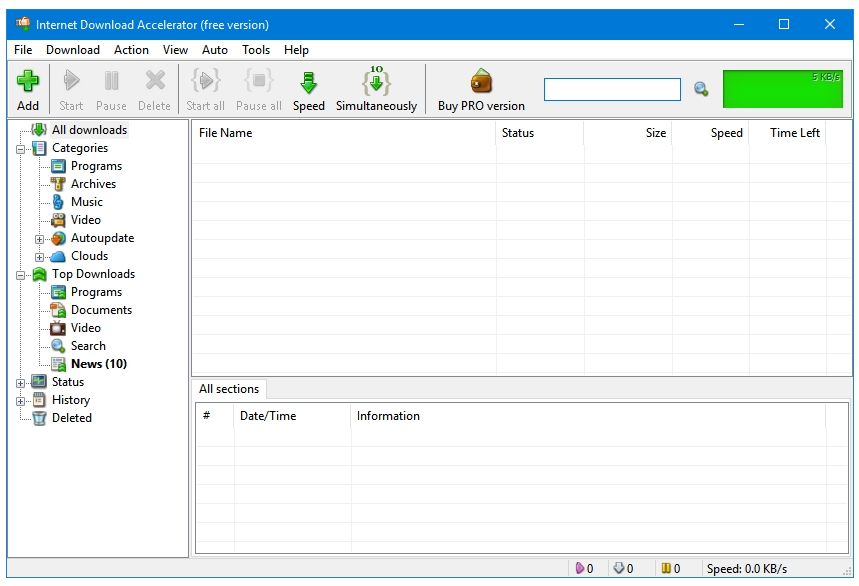 Internet Download Accelerator is the closest that you can get to Internet Download Manager for free. It has all the features that you'll ever need from a download manager. It supports multi-threaded file download, scheduled downloading, clipboard monitoring, FTP Explorer, resuming broken downloads from both HTTP and FTP servers, playing audio and video files while downloading, virus scanner, floating window, etc. Video and Audio downloading from popular media websites is also supported.
Users can adjust the bandwidth allocation limits for their downloads through the Speed tab on the program toolbar. Five modes present – Maximum, Medium, Low, Automatic and Manual. IDA lets you download upto 10 files simultaneously. This setting can also be changed to any other number from 1 to 10 through the Simultaneously button.
IDA has extensions for all the popular web browsers such as Chrome, Firefox, Opera, Safari, etc. Plug-ins are also available to add more features to this already feature-rich program.
After installation, IDA makes a shortcut on the desktop to an online service. You may want to delete that. The free version also includes promotions for its paid version.
3. XDM
https://xdman.sourceforge.net/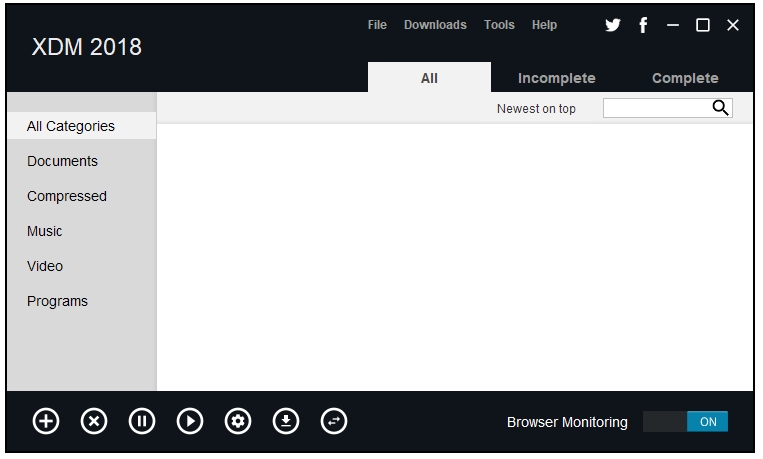 XDM, short for Xtreme Download Manager is a free and open-source software. It is a cross-platform download manager available for – Windows, Linux, and Mac. XDM is a great free alternative to Internet Download Manager (IDM), most of the features found is IDM are available here.
It integrates well with web browsers. Actually that's what this program does with you load it for the first time, the Browser monitoring window is displayed where you get the links to install addons for major web browsers such Firefox, Chrome, Opera, Edge, etc. Integration into other web browsers using layout engines of popular web browsers is also possible.
The Media grabber works pretty well. You get the download links to the video resolution that you are currently watching, for example, if you are watching a YouTube video in 480p then the download link to 480p is automatically generated. However, if you want to save the 720p or 1080p version then you have to play the video in that resolution.
Other features include Clipboard monitoring, Refresh link, Speed limiter, Smart scheduler, Sites manager, Proxy support, Queued downloads, Batch download, etc. A video converter is also included.
It does not have a background update option yet. The update message takes you to the official SourceForge download page with download link to the updated version.
4. EagleGet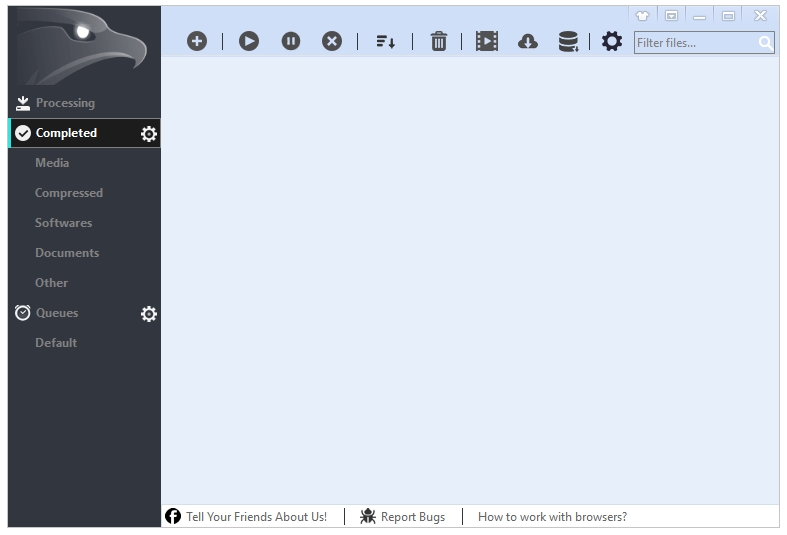 EagleGet started as the best free alternative to IDM. It became very popular very soon. It has a clean and customizable user interface. Various skinning options are available to alter the colour scheme and backgrounds of the default skin. EagleGet supports multi-threaded downloading, clipboard monitoring, scheduled downloading, automatic virus scan, automatic media conversion, speed limiter, batch downloads, etc.
Downloading from various media websites is possible through their Media Grabber feature. EagleGet has extension for all the major web browsers. The Enable Browser Monitoring option lets you customize settings related to web browser extensions.
EagleGet installs a feature called iNewTab that changes the New tab page of your Chrome browser. You may want to uncheck the iNewTab option during EagleGet installation.
5. JDownloader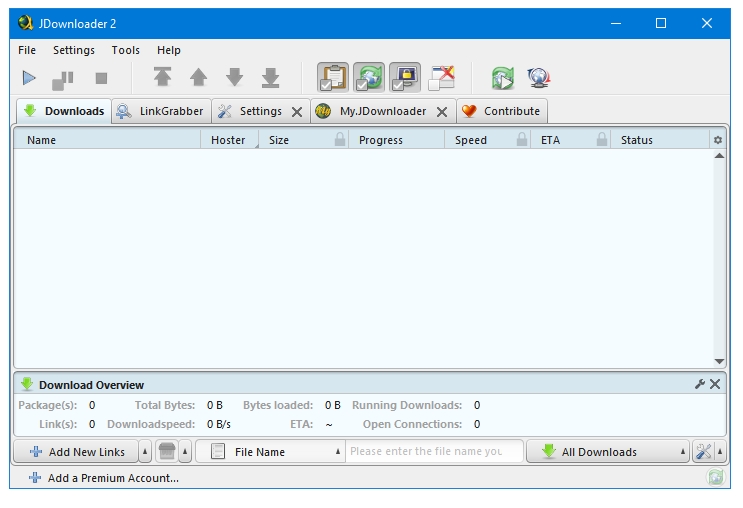 JDownloader is one of a kind program. It's a priceless software for the mass media downloaders. The core feature of JDownloader is downloading from file-sharing websites such as Mega, Uptobox, DepositFiles, etc. It has support for adding premium accounts for websites that require having premium (paid) accounts for downloading their content.
But, downloading from file sharing websites is not the only thing where it excels. It's also the best YouTube downloader. JDownloader can download from tons of multimedia websites and online services, thanks to its extremely powerful clipboard monitoring and link analysis component called Linkgrabber. Whenever you copy the URL of a multimedia website, JDownloader's Linkgrabber starts analyzing that URL webpage, and capturing all types of media files present on that page.
This software also has all the capabilities required for replacing your traditional file download manager. It supports downloading from HTTP as well as FTP. JDownloader also supports remotely downloading and managing your downloads through their My.JDownloader feature. It supports the auto-extraction of packaged and multi-part files, too.
This software is pure appgasm, all thanks to its limitless options and customization possibilities. It'll take hours to fully go through all of its settings. There is no shortage for skins either. But finding all these is like a treasure hunt. Because of the presence of all these nice things, there are some naughty consequences as well. JDownloader is not lightweight. All of its plugins take some time to load, which make the program slow to start. It uses around 300MB of RAM. So, it's not ideal for people with a RAM of 2GB or less. The software interface, although nice, is complex for new users. JDownloader doesn't contain any kind of annoyances.