Best Websites to Download HD Wallpapers
Here are 10+ Best Free Websites for Downloading Stunning HD Desktop Wallpapers for all Operating System and Devices – Windows PC, MacBook, iPhone, iPad, Linux Distros, Android, Galaxy, etc. in all sizes – HD, Full HD, Ultra HD, 4K, 5K, 8K, Dual Monitor, Retina, etc. This list does not contain those websites that add their own logos on wallpapers; all of these sources provide clean wallpapers.
Best Websites for Downloading HD Desktop Wallpapers
1. DeviantArt Wallpapers
https://www.deviantart.com/customization/wallpaper/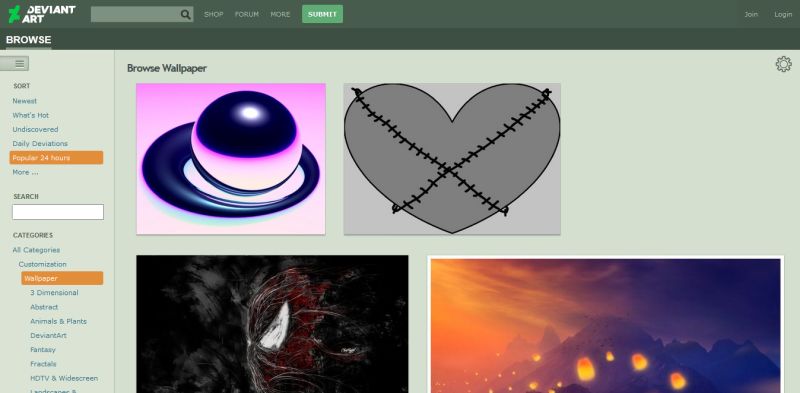 Benefits of Using DeviantArt as your Primary Wallpaper Resource.
1. Professional Wallpapers for You Directly from their Creators
DeviantArt is a place where the professional designers host their wallpapers themselves. It is not just a compilation of wallpapers sourced from various locations; instead, DeviantArt is a complete Graphics resource. I have seen many of the wallpapers hosted here being used as default for various Linux Operating Systems (Distributions). These have also been used by various Windows PC manufactures for their advertisement purposes. You can also see the original content hosted here in various wallpaper collections made on other dedicated wallpaper websites. Here, you can contact the wallpaper creator directly, and thank them for their work, or provide any other kind of feedback.
2. Wallpaper Packs
Here, you can get complete Wallpaper packs, not just a single wallpaper. That's right, many designers host a group of multiple versions of the same wallpaper i.e, the same wallpaper is available in multiple sizes that are optimized to fit multiple device screen sizes. This, way you do not need to manually crop a wallpaper to fit on your Desktop, Laptop, or Mobile; just use the one from the group that fits the best on your device.
3. No Logos
Most of the times, the wallpaper hosted on DeviantArt don't have any logos on them. Some wallpaper compilation websites put their logos on either of the corners of the wallpapers hosted by them. The original creators of those wallpapers may not have added such logos but still, you get a watermarked wallpaper just because you downloaded it from that specific site. On DeviantArt, you have better chances of getting a clean wallpaper.
2. InterfaceLIFT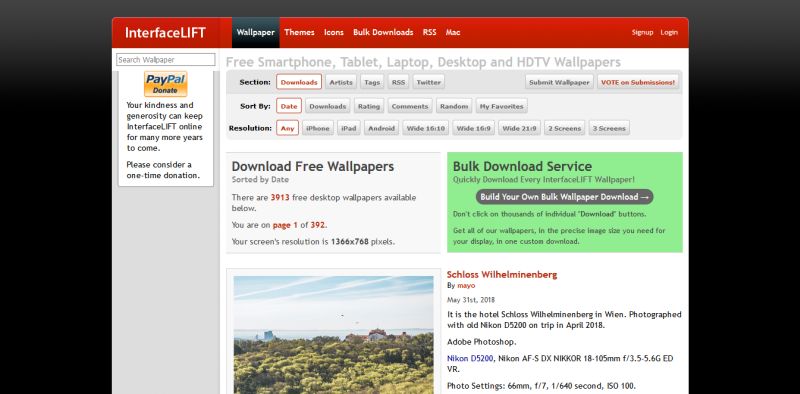 InterfaceLIFT automatically detects the screen resolution of their visitors' computer or device screen, and then shows them the version of the wallpapers that fit their screens the best. However, you can download the selected wallpaper in any of the other sizes available. But, the wallpapers are so great in quality that if you decide to use a FullHD wallpaper on an HD or HD+ screen then you'll get sharpness noise on your wallpaper because of fitting a larger resolution wallpaper on a smaller resolution screen.
Here, at InterfaceLIFT, you get full details about the wallpaper, its creator, the camera used, location, time, photo capture settings, rendering software used, etc.
Because, we are talking about original content here, the amount of wallpaper is not huge, a classic case of quality over quantity.
3. WallHaven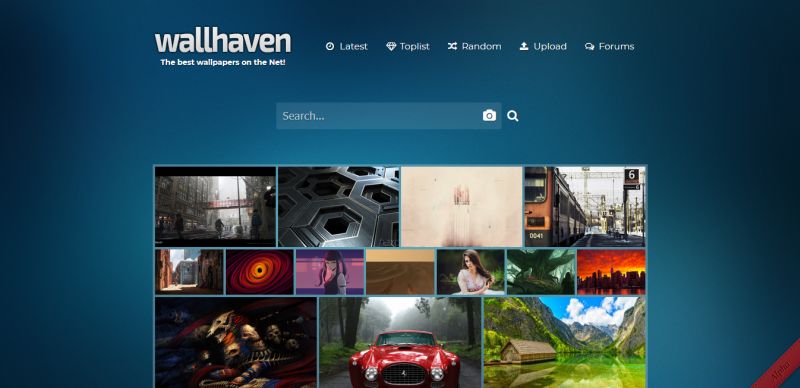 The moment you land on Wallhavens, you get a feeling that you are going to get some amazing high quality wallpapers today. That's the power of brilliant web design, with its minimalistic yet distinctive design, this website has already won a user, and his perception.
Another great design element is the fact the mouse is active on the Search bar when you open this website. Type the term, and get your wallpapers. There is an image icon in the extreme right of the search bar that you can click to Upload an image, and then find the similar-looking images. Below the search bar is a random gallery of wallpapers.
In addition to searching for the wallpapers by typing in the search bar or uploading an image to find similar images, you can also browse for the wallpapers by clicking on any of the three buttons placed in the website menu bar – Latest, Toplist, and Random. You can also use Tags to find and download wallpapers of one specific category. The Properties box placed in the left sidebar displays detailed information about the selected wallpaper.
If you are a content creator, you can upload your own wallpapers by clicking on the Upload button. Another great resource is forums that you can visit by clicking on the Forums button.
4. Alpha Coders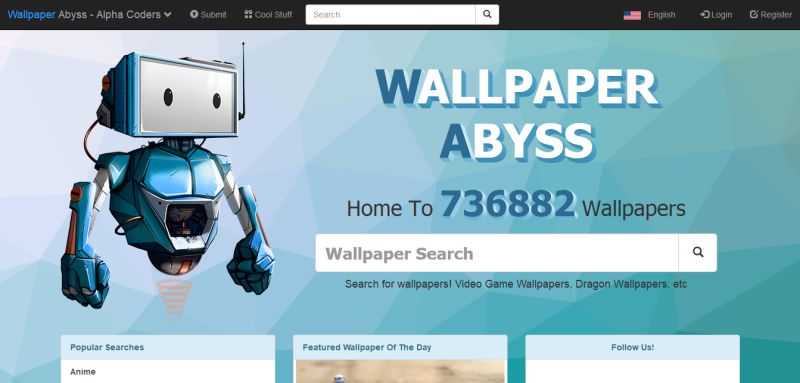 Alpha Coders is the next website in this list that stores stunning high-resolution wallpapers.
Along with the Search bar, Alpha Coders provides you with three sections to browse their wallpaper collection – Popular, Categories, and  Resolutions.
The Popular tab is an amalgamation of various types of Popular Wallpaper Search terms such as HD Wallpapers, UltraHD 4k Wallpapers, Retina 5k Wallpapers, UltraHD 8k Wallpapers. There are options for searching by the Highest Rated, Most Viewed, etc. You can also search by Tag and Colour. The Categories tab is more conventional in approach. Here, you can search by categories like Anime, Celebrity, Earth, etc. The Resolutions tab lets you search by the resolution of the image or by the image dimensions. A ton of wallpaper resolutions are listed to pick.
You can upload their own wallpapers by clicking on the Submit button. Each wallpaper carries detailed information such as the Artist, License, Date Added, Colors, and Tags. Alpha Coders lets you download the wallpapers in their Original resolution, Cropped to your screen resolution, or as Stretched to your screen resolution.
5. Desktop Nexus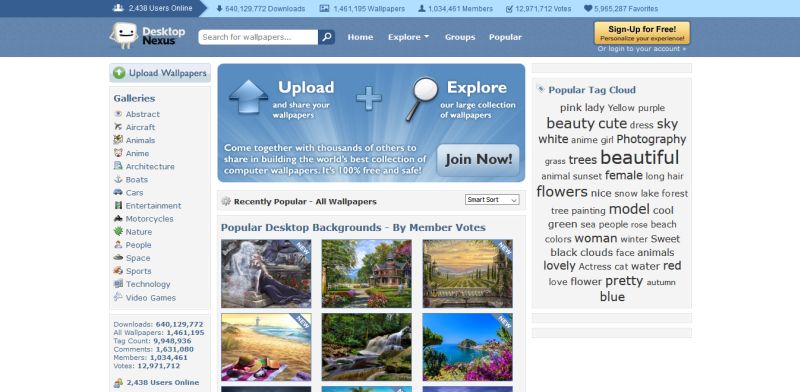 The homepage of Desktop Nexus feels overwhelming, but in a good way. There is so much information about various things, it just makes you feel that this place has been around for some time.
You can explore wallpaper using Wallpaper Galleries such as Nature, Space, Technology, etc.
Wallpapers are also organized in various Community Groups such as Landscape, Mountains, Rivers, etc. Whenever you search for an image, on the search results page, you get suggestions about these Groups based on your search query.
Another great way of searching for wallpapers is by using Tags. Desktop Nexus has listed Tags on multiple locations of the website. You can click on these Tags such as Christmas, to watch the wallpapers related to that specific term.
There is also a Popular section that lists the more popular, and the newest wallpapers on the site.
If you are a creator yourself, then you Upload wallpapers as well.
Desktop Nexus is also a great resource for digital and non-digital paintings and wallpapers.
The Wallpaper Statistics section displays all kinds of information about the selected wallpaper.
6. WallpapersCraft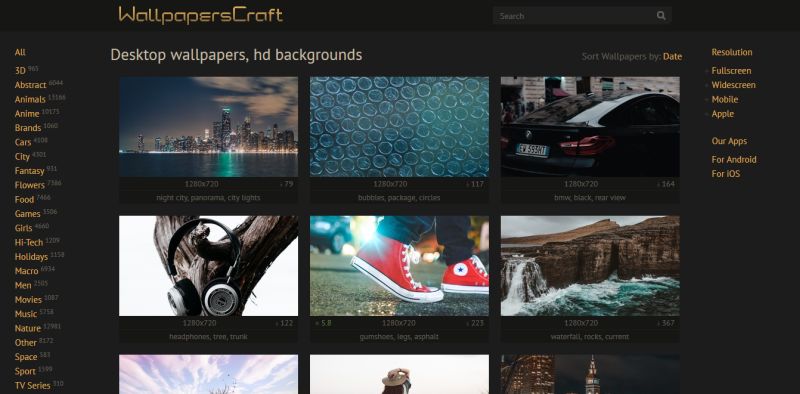 WallpapersCraft is a complete wallpaper website with a huge collection of beautiful wallpapers for all purposes and all screens.
There are multiple ways of finding your favourite wallpapers at WallapersCraft.
You have the Sort Wallpaper by button that lets you sort the wallpapers by Date, Downloads, or Rating.
The left sidebar of the websites displays a huge list of Tags that you can use to quickly find the wallpapers of one particular category.
The Resolution right-sidebar lets you set the resolution for your images such as Fullscreen, Widescreen, Mobile, or Apple. You can expand these four options to view the available resolutions.
And, you can also search for wallpapers by typing the term in the Search box.
When you click on a wallpaper, then in the resulting download page, you see the Related Wallpapers; another source for finding wallpapers. Under each wallpaper, there are various details such as the Author, License, and Source of that wallpaper.
7. Social Wallpapering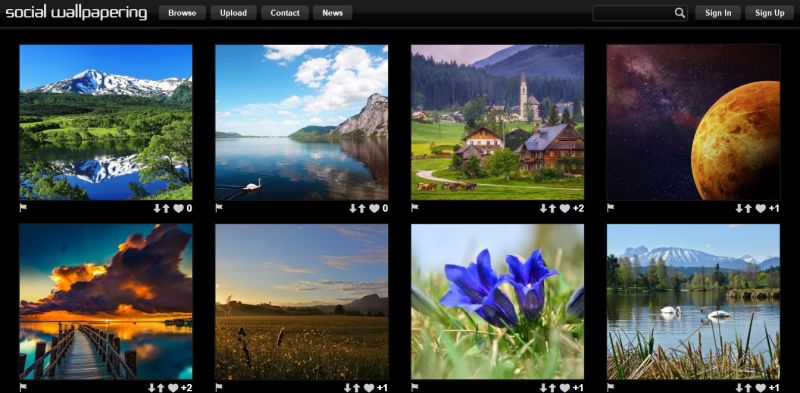 Social Wallpapering is another old and fully fledged wallpaper website. It has a huge database of beautiful wallpapers. Visit the website, and start searching for and downloading your favourite high-resolution wallpapers.
You can type the search term in the Search bar to find the wallpapers. Or, you can click on the Browse button in the website menu bar to expose the wallpaper categories such as Fantasy, Nature, Seasonal, and then click on them to view wallpapers belong to that category only. You can upload your own wallpaper by clicking on the Upload button.
There are a few details such as Views, Uploader, and Tags, are available for each wallpaper.
8. Unsplash Wallpapers
https://unsplash.com/wallpaper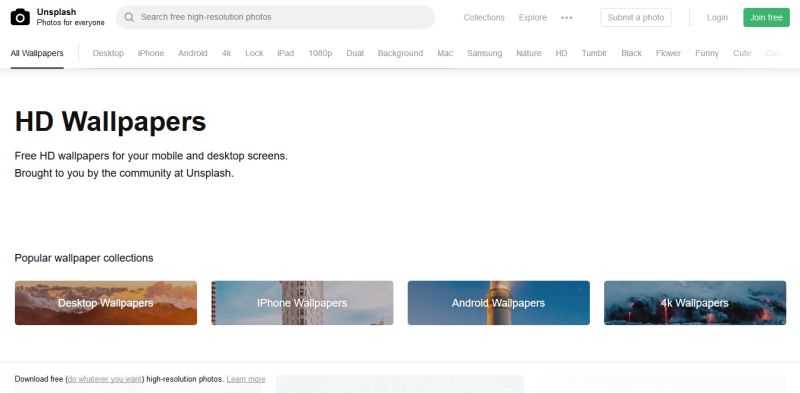 Unsplash is an online stock photo website that has tons of beautiful high-resolution wallpapers. Instead of visiting the home page of the website, visit the address mentioned here to access the dedicated Wallpapers section of Unsplash.
There are four wallpaper collections available for the users – Desktop Wallpapers, IPhone Wallpapers, Android Wallpapers, and 4k Wallpapers. A list of Tags is also present in the form of a website top bar.
Each wallpaper carries details such as the Artist name, Wallpaper location, and an Information button.
9. Pexels Wallpapers
https://www.pexels.com/search/wallpaper/
Pexels is another free stock photos resource that hosts some great looking high-quality wallpapers. Just like Unsplash, visit the website URL provided here instead of opening the homepage of Pexels.
Not many options are available for searching wallpaper. You can sort the images by Popular Photos, Photos by Color. Or, you can just click on Discover option to browse user-made galleries. If you just browsing random wallpapers then to get more ideas by clicking on the Popular Searches option.
Each wallpaper gives important information such as the Artist details, and License permissions, and a Donate opton for the original artist.
10. Flickr Wallpapers
https://www.flickr.com/groups/wallpapers/pool/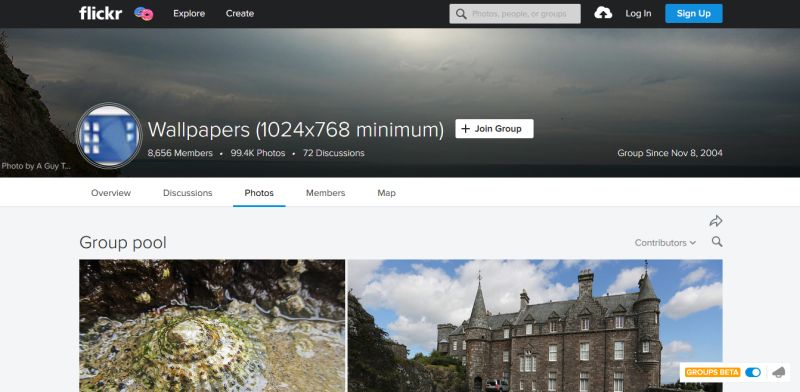 Flickr stores some of the best photographs on the Internet. It is a great online backup system for photographers.
You can use Flickr to source some stunning wallpapers using their Wallpaper groups. For example, the most popular wallpaper group on Flickr is Wallpapers (1024×768 minimum) whose link is given above. There are many other wallpaper groups on Flickr that you visit to get your wallpapers.
Flickr stores different versions (resolutions) of each image, so you can download the one that fits your device screen.
Flickr gives the most detailed information about its images – Artist, Camera, Camera Settings, Copyrights, Tags, Location, and Additional info.
11. Google Images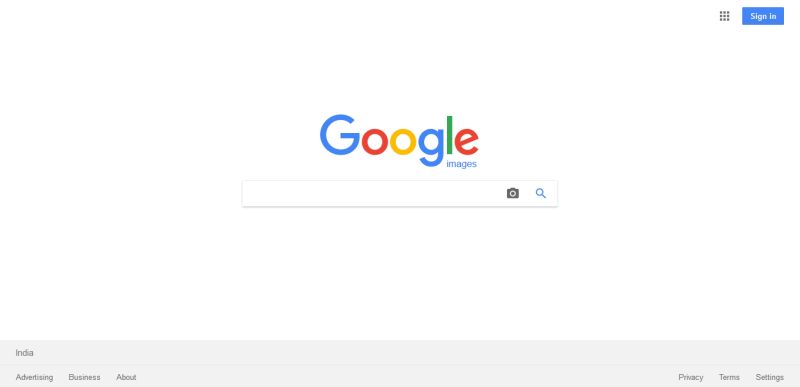 Google Images is the default wallpapers resource for millions of people. Type HD wallpaper, and you are presented with a list of images that will probably never end.
You can search for images in the Google Image Search page using three methods – Search by text, Search by image, and Search by text.
The proper way of using the Google Image Search for finding high-quality wallpapers is by using their Tools option that lets you select various parameters for the search such as Size, Color, Usage rights, Type, Time, and More tools.
No one should be stuck on defaults, customize and personalize!