PotPlayer is a free video (movie) player for Windows. The home page of PotPlayer can be found here: https://potplayer.daum.net/
What makes PotPlayer so great:
It plays everything. PotPlyer does not rely on other filter and plugin such as ffdshow. It plays all of the file formats with its own filters.
From the developer of KMPlayer.
Includes all the latest technologies and features such as 3D and 360 degree playback.
So many settings and customization options.
Regular updates. Very active development.
Amazing skins available.
No ads. It has a Broadcast List that can be disabled by pressing F8.
No upgrade promos.
No splash screens.
Very stable. This player has never crashed.
The fastest and the most accurate playback seek.
Thumbnail previews.
Inbuilt subtitles downloader.
Crystal clear subtitle display.
32-bit and 64-bit versions available.
Settings
PotPlayer gives you ample amount of options to play with. Once  you've customized the player to your liking you can export the settings in a .reg file. This file can be helpful if you are going to install it on some other computer, and do not want to configure is again. Just install the software, double click the PotPlayer settings file that you exported, and the next time you start your player it'll be automatically configured.
The Playback tab you can find all the settings related to general playback of your video files. One very useful setting is turned off by default in PotPlayer. At the bottom of the window, you can see an option called Show thumbnail previews. Enabling this option lets you see the preview of the video that you're watching at any point of its runtime. All you need to do is take the mouse cursor over the playback seek bar, and you'll be presented with the preview of the video in little box over the seek bar on your player window.
This feature can prove to be disadvantageous sometimes e.g., watching the preview of the last parts of a movie or episode can give you some spoilers. So, be careful.
Many great video players fail at this point. The subtitles feature was perfected by KMPlayer, the predecessor of PotPlayer. When most paid DVD players, VLC and other video players were displaying blurry low quality subtitles with little to no options to customize them, KMPlayer displayed crystal clear subtitles.
Never check the VMR/EVR subtitle smoother checkbox as it will make your subtitles blurry.
Click the Display text subs inside video image checkbox twice to watch the subtitles always inside the video file.
Under Font Style, you can browse for various fonts installed on the system and use your preferred font with preferred font size.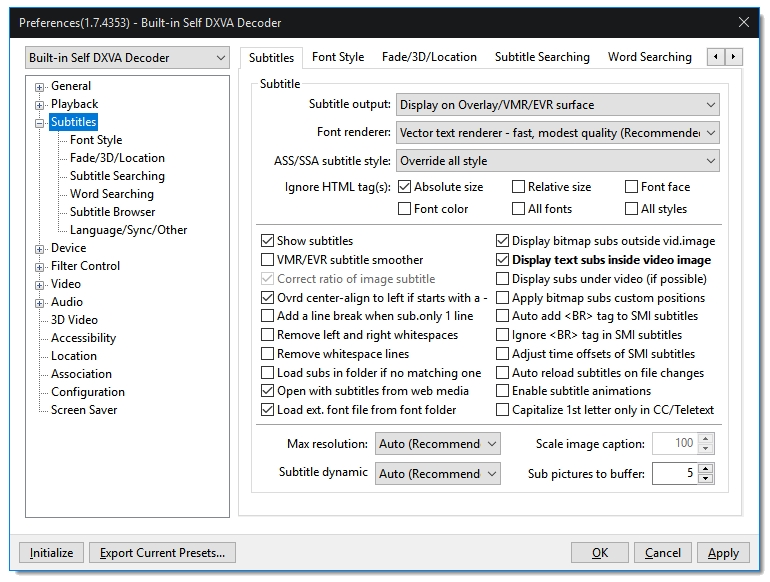 Another great feature of PotPlayer is its ability to download the subtitles automatically for your video files.
Follow these steps to enable this feature:
Right click on the player window. It will open the PotPlayer options pane.
Go to Subtitles > Online Subtitle Searching > Download subtitles from OSDb. This will open another window.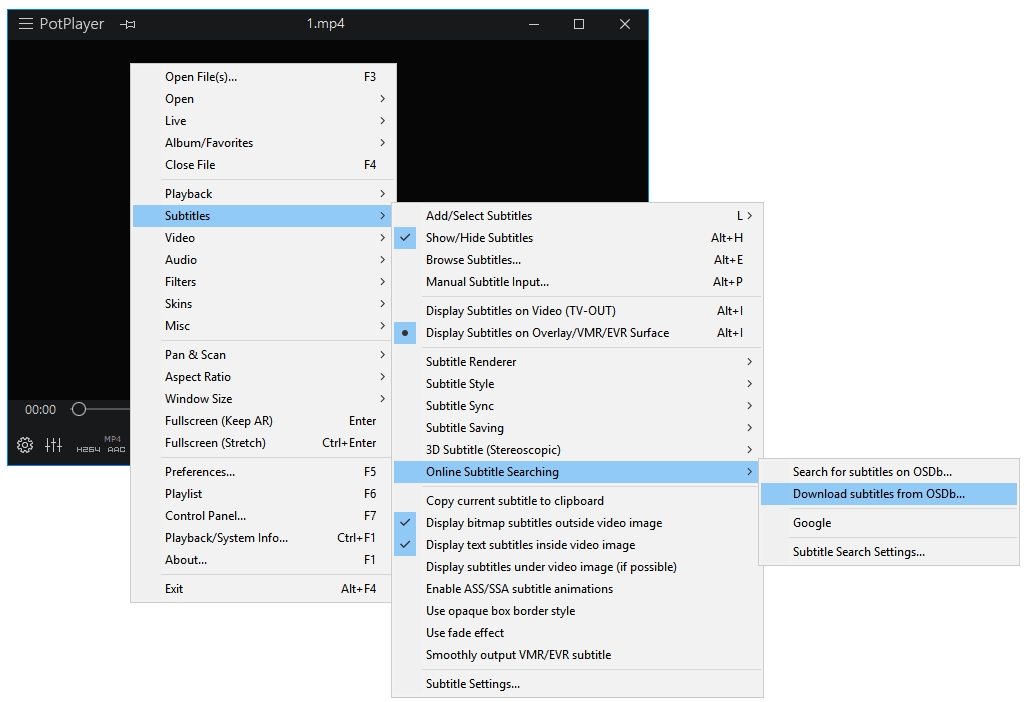 All of the available subtitles for your video file will be displayed in this window. Select the subtitle(s) that want to download. To save the selected subtitles on your computer click on the button that says Save selected subtitles as…
You can automate the process of online subtitles searching by select enabling the option placed at the bottom of the window that says Show this dialog when subtitles are found with auto search.
Skins
The default skinned PotPlayer looks like this. It's not bad but not great either. Looks out of date and does not match the Windows flat design. That yellow sound slider doesn't help either.
Here are some great skins for PotPlayer that can be easily obtained from DeviantArt.com.
Modern W10
Modern W10 has the best implementation of the flat design in a PotPlayer skin. It does not copy the design of other players. Modern W10 can be downloaded from its official link below.
https://mr-web.deviantart.com/art/Modern-W10-Skin-for-PotPlayer-678381013
PotXMP
Just like Modern W10, PotXMP is also a great implementation of the flat design in the skin. But it has some contrast issues. Instead of using the shades of grey the developer has used the black for main skin colour and white for some button elements. It looks good but I prefer Modern W10 over it. PotXMP can be downloaded from its official link below.
https://www.deviantart.com/art/PotXMP-4-0-Skin-for-PotPlayer-618425544
Kardox Skin
Out of the three skins listed here, Kardox is the one that looks the most like the default PotPlayer skin. A very minimal fat design based skin with all the essential buttons. Kardox comes in two versions – Kardox Blue 1 and Kardox Blue 2. Karbox Blue 2 is recommended. Kardox can be downloaded from its official link below.
https://fiko3535.deviantart.com/art/Kardox-Skin-for-PotPlayer-576709785
Try this wonderful video player to experience its capabilities.