Best Free Antivirus Products for Windows PC in 2019 – Avast Free Antivirus.
Overview
Avast Free Antivirus protects against viruses and other malware using their famous antivirus engine and other technologies. There are various security-related tools in this program, and there are settings for everything. You can customize this program to your liking. Avast is a crowd-pleaser, and constantly tops free antivirus lists.
Since the ownership of AVG, Avast's detection ratio has gotten even better as now it has AVG's signatures as well in their database. Avast Free includes a Cloud scanning technology called CyberCapture, which helps them keep their antivirus light on user system resources. Avast now includes AVG's Bahaviour Shield inside their product, which means a much better malware detection. The dedicated Ransomware Protection component is not available in the Free version.
Protection
VB100 Score
In the December 2018 report of VB100, Avast Passed the VB100 test.
AV-Test Score
The Latest AV-Test (October 2018) scores of Avast are:
Protection – 5.5/6
Performance – 5.5/6
Usability – 6/6
Total – 17/18
AV-Comparatives Score
Following are the scores of Avast in AV-Comparatives' latest Real-World Protection Test (December 2018):
Blocked – 99.6%
Compromised – 0.4%
Avast is a winner of the AV-Comparatives Advanced+ award.
Features
The Home screen of Avast has organized all of its features into four categories, which can be accessed by the four buttons placed in the program sidebar.
Status
Protection
Privacy
Performance
Status
The Status button is your way to the Home screen of the program. It displays the messages about system's status – is there are any issues, threats or it everything is protected.
Protection
The Protection tab displays all of the computer security and protection related Features and Tools of Avast. The free users have access to the following five.
Scans – Displays the Scans window.
Core Shields – Displays the Core Shields included in the program.
Virus Chest – Virus Chest is the name of Avast's Quarantine feature.
Wi-Fi Inspector – It diagnoses the Network related issues on your computer.
Software Updater – It updates the other software installed on your computer from the older versions to their latest ones.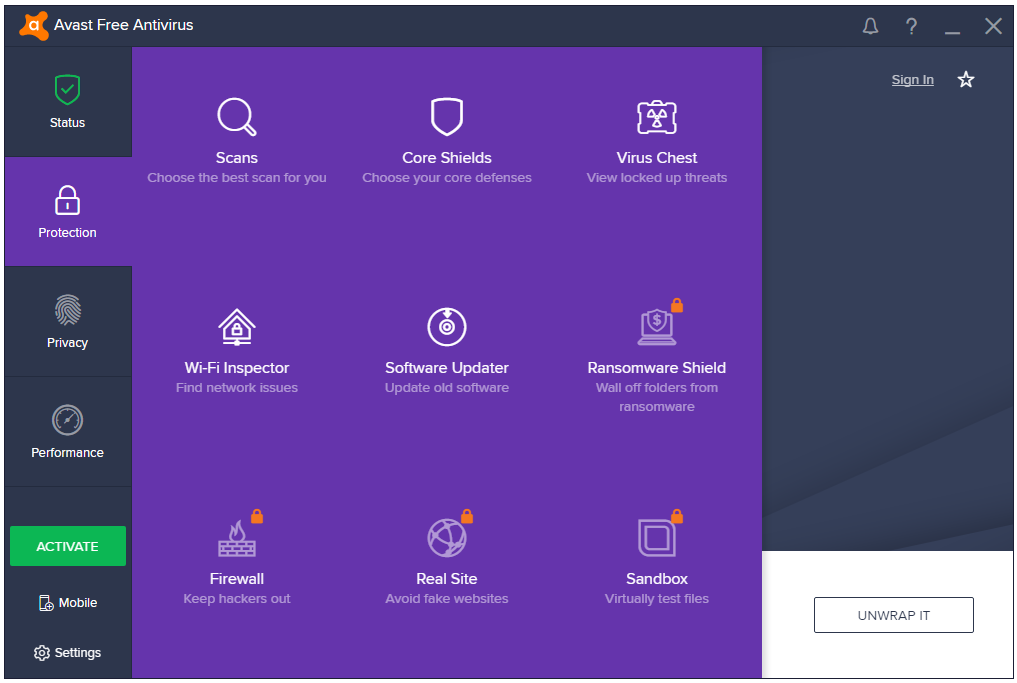 Privacy
Only Passwords is a free tool provided by Avast in the Privacy category. Rest of the tools are either paid add-ons or available in their paid Pro version.
Performance
Under Performance, only the Game Mode feature is available to the free users. Others are paid tools.
Settings
The Settings button placed at the bottom of the sidebar open Avast's Settings.
General
Components
Update
Subscription
Troubleshooting
About Avast
Scans
A full set of Scan options are present here – Smart Scan, Full Virus Scan, and an option called Other Scans that links to other advanced and customized scans.
Core Shields
Four types of Protection Shields are included in the free version – File Shield, Behaviour Shield, Web Shield, and Mail Shield. These shields protect the user computer and data from all kinds of malware.
Virus Chest
Virus Chest the name of Avast's Quarantine feature that stores the detected malware.
System Impact & Resource Usage
Hard Disk Used: The installer is around 250 MB in size. After installation and an update, the Avast Free Antivirus uses around 1.50 GB of the disk space.
CPU and RAM Usage When Idle: Avast is known for being light on system resources. It uses only about 30 MB of RAM when it is idle. The CPU usage is stable at 0%.
CPU and RAM Usage When Scanning: Even you are performing Full scan with Avast, it only uses around 50 MB of your RAM. The CPU usage is also very low; it fluctuates between 2 to 8%, and is stable at around 5% for most of the time it is scanning.
User Interface & Ease of Use
The User Interface of Avast is one of the best in the Free Antivirus Category. It uses a nice colourful flat theme. All of the tools open in the same window. You can access most of the product features right from the Avast Sidebar. However, it does not have the skin support.
On the other end of the spectrum, Avast uses some non-user-friendly tactics to make its users click on their paid features and tools. For example, after installing the Avast Free Antivirus, when you visit their sidebar to go through their features, you'll notice that none of the paid tools or pro features are distinguishable from the free ones. In fact, an informed user or a first-timer to Avast will think that there are so many wonderful features in Avast's free product. However, that's not the case.
Dig deeper, and you'll find out that out of the nine features listed in the Protection section, only five are available for free. And, only one each out of the six and three listed in the Privacy and the Performance sections respectively are available to the free users.
When you open Avast for the first time, some of the features are marked with a green coloured button saying, and the rest of them are non-marked. When you click on these marked icons, they turn to an orange coloured Lock icon. Lock means these features are locked, and are available on the paid versions of Avast Free. Okay, so now you have a few icons that are marked with locks, and some other that are not marked at all. Common sense says that the ones not marked with a lock are unlocked or accessible. But that common sense does not apply here as the only a few of these are free and rest of them are promotions for Avast's paid products (mentioned above). This is not
Nag
There are various messages about their paid products at the bottom of the main window and the sidebar of other windows. They constantly remind you to consider purchasing their premium products.
Avast uses deceptive methods to make users click on their paid tools and features, and they make it difficult for their uses to distinguish the free features form the paid ones. They have created an outlook for their product that suggests that it is full of features, which, in reality, it is not. Everything related to these methods has been covered in the previous section.
It tries to install Google Chrome during its installation.
Total Score
Total Score: 21.5/25
| | |
| --- | --- |
| Protection | 4.5 |
| Features | 4 |
| System Impact & Resource Usage | 5 |
| User Interface & Ease of Use | 4.5 |
| Nag | 3.5 |
Highlight: Strong Signatures (Malware Detection Ratio)
Download: https://www.avast.com/en-us/free-antivirus-download
Alternatives