Install Local Group Policy Editor (gpedit.msc) in Windows 10 Home
The Local Group Policy Editor is a powerful tool used mainly by the System Administrators to customize the computers on their networks, and enable/disable employee access to certain Windows features. It available only in the Pro (or Ultimate) editions of Windows, and not in the Home (Basic or Single Language) edition. However, it is possible to install and enable this tool in Home edition as well. All of its options can be used in home computers as well. Many tweaks that are made using the Registry Editor can also be made using the Group Policy Editor.
Here's how to install and enable gpedit.msc in Windows 10 Home:
Step 1: Open Notepad.
Step 2: Copy and Paste this code into Notepad. Save this as a .bat file, for example, install gpedit.bat.
Download this file from Google Drive here.
Step 3: Right click on the Batch file that you just created, and select the Run as Administrator option.

Step 4: It will open the Command Prompt window. Wait for a few minutes and let it do its job. Soon, you'll see the Installation complete message. Press any key to close the window.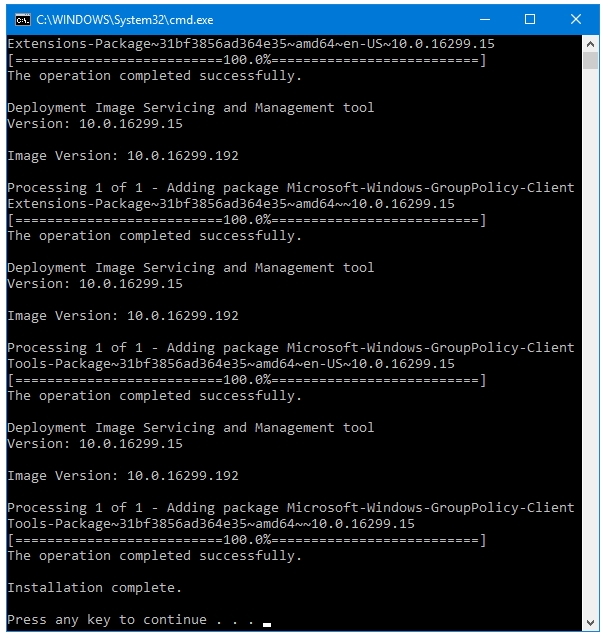 Step 5: Restart your computer to complete the process.
Step 6: To open the gpedit tool, open the Run dialog box by pressing Windows + R. Type gpedit.msc in the text area, and press OK.
That's it. You now have access to the Group Policy Editor.
Note: Group Policy Editor is an advanced tool. Always create a Restore Point before making any changes to your Windows with Group Policy Editor.